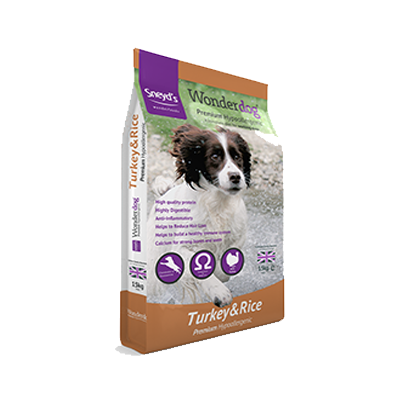 Wonderdog Premium Turkey & Rice – Hypoallergenic Dog Food 15kg //
Wonderdog Premium Turkey & Rice – Hypoallergenic
Turkey & Rice with Chondroitin & Glucosamine Our natural dog food doesn't contain beef or pork in any form, dairy, soya, eggs, wheat or wheat gluten, artificial flavourings or colourings.
Available in:
Sensitive Hypoallergenic Turkey & Rice with Chondroitin & Glucosamine - with 30% Turkey & 26% Rice content.
The best dog food for every dog: the more common products that can sometimes be the causes of allergic reactions in dogs are excluded from this recipe. Our natural dog food doesn't contain beef or pork in any form, dairy, soya, eggs, wheat or wheat gluten, artificial flavourings or colourings.
A complete diet for active working dogs
A premium dog food as good as, if not better than diets over twice the price.
With 30% Turkey
Free from artificial colours or flavourings
With Chondroitin and Glucosamine to maintain healthy joints
Suits all breeds of dogs
Helps to maintain ideal body weight
Highly palatable
Naturally preserved
Rice which is a gentle carbohydrate and a good source of energy
Beet pulp which is an excellent source of dietary fibre to help aid healthy digestion and good stool formation
Anti-Inflammatory
Helps to reduce hair loss
Calcium for strong bones and teeth
High quality protein
Essential Information about our premium dog food
Turkey
Is easy to digest, highly palatable and provides an excellent source of protein. It is lower in calories and fat than chicken.
Rice
Contains a whole host of natural nutrients including three B vitamins, iron, manganese, selenium, magnesium and omega-3 oils. It is also a good source of dietary fibre which is important in maintaining intestinal health.
Chondroitin
Chondroitin sulphate is a naturally occurring molecule which is well known for easing the symptoms of osteoarthritis and other joint conditions. It acts as a natural anti-inflammatory and also blocks the enzymes that attack the joints during osteoarthritis.
Glucosamine
Helps to prevent the breakdown of the joint cartilage.
Feeding Guidelines
The recommended feeding quantity should be split into two equal meals with one to be fed in the morning and the other to be fed in the afternoon. Please DO NOT exceed the total amount of food to be fed per day. Fed dry this food can help to fight plaque building up on your dogs teeth. To feed moistened, soak with hot water and leave to expand. The table below is a guide only as an individual dog's requirements will vary depending on activity level, age and environment. For nursing dogs please add an extra 90-120g of food per day. When feeding for the first time introduce gradually over 4 days.
Size of dog
Weight
Daily Amount
lbs
kgs
Ozs
Grams
Miniature
2-11
1-5
1-2
28-56
Small
11-23
5-10
6
56-142
Medium
23-44
10-20
12
142-227
Large
44-66
20-30
18
227-340
Giant
66+
30+
24
340-454
Always ensure clean water is available. Store in a cool dry place.
Analytical Constituents:
| | |
| --- | --- |
| 24% | Crude Protein |
| 12% | Crude Oils & Fats |
| 3% | Crude Fibre |
| 8.5% | Inorganic Matter |
| 1.5% | Calcium |
| 0.3% | Omega 3 |
| 2.3% | Omega 6 |
Composition:
Turkey Meat Meal (30%), Whole Grain Rice (26%), Whole Grain Corn, Whole Grain Barley, Dried Sugar Beet Pulp, Poultry Fat, Dried Brewers Yeast, Vitamins & Minerals (0.05% glucosamine & 0.025% chondroitin), Whole Linseed, Fish Meal.
Additives:
Preservatives, Antioxidants.
Nutritional Additives / Kg
[Vitamins] Vitamin A 17,000i.u., Vitamin D3 1,500i.u., Vitamin E 70mg.
[Trace Elements] Iodine (as Calcium Iodate Anhydrous) 2.5mg, Selenium (as Sodium Selenite) 0.1mg, Copper (as Cupric Sulphate Pentahydrate) 8mg, Iron (as Ferrous Sulphate Monohydrate) 60mg, Manganese (as Manganous Oxide) 50mg, Zinc (as Zinc Oxide) 100mg.
Ordering & Shipping
All orders placed before 3 pm we will endeavor to dispatch the same day for delivery the next working day.
Order To Some Scottish Postcodes may take longer.