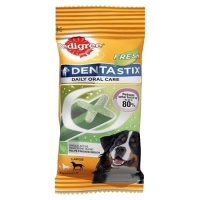 Pedigree Dentastix Fresh Large 7 Sticks
Complementary pet food for adult dogs.

Helps ease joint stiffness
See the difference in 6 weeks

CPA Complex + with Glucosamine & Chondroitin
Free from artificial colours and flavours

PEDIGREE Joint Care™+ are tasty treats containing CPA Complex+, a unique blend of natural active ingredients.
When fed daily, they are proven to target the cause of joint stiffness and within just six weeks, you could see a real difference.
Then to continue to support your dog's joints, you should keep feeding one treat every day.

CPA Complex + Contains:
Omega 3, promoting flexibility and suppleness
Glucosamine, naturally derived from shellfish, helping rebuild joint tissue. 325mg per treat.
Green Lipped Mussel Powder, providing a rich source of Chondroitin to help ease joint stiffness. 325mg per treat.
With added Methionine, helping to support the natural regeneration process.