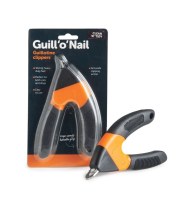 Clean 'N' Tidy Guill 'O' Nail
Sharples & Grant are pleased to introduce the newest additions to their range of quality pet grooming products to help keep your pet in tip top condition.
Guill 'O' Nail guillotine clippers are suitable for use with both cats and dogs and provide accurate clipping action. These fantstic clippers have a strong heavy duty feel and are easy to use.
156 x 93 x 25mm