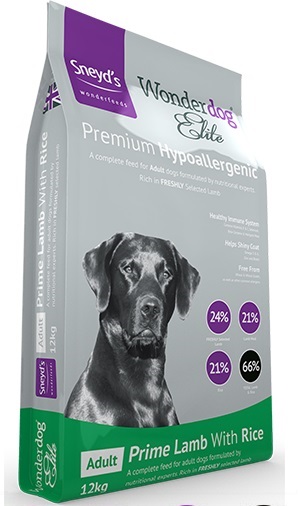 Sneyds Elite Premium Hypoallergenic Lamb with Rice 3kg Dog Food ( INCLUSIVE p&p )
A complete feed for adults dogs formulated by nutritional experts. Rich in freshly selected lamb.
Sneyds Elite Premium Hypoallergenic Lamb with Rice 3kg Dog Food

Prime Lamb with rice
A complete feed for Adult dogs formulated by nutritional experts. Rich in Freshly selected lamb.
A complete "SUPER PREMIUM" hypoallergenic dry feed for Adult dogs.
More about this product
Premium Hypoallerginic The more common products that can sometimes be the causes of allergic reactions in dogs are excluded from this recipe. i.e.
This product excludes: Beef and Pork in any form as well as Dairy, Soya, Eggs, Wheat and Wheat Gluten, artificial flavourings and colourings.
Healthy Immune System Contains Vitamins E 7 C, Selenium, Beta-Carotene and Marigold Meal. Helps Shiny Coat With Omega 3 & 6, Zinc and Biotin.
Free From
Wheat & Wheat Gluten, as well as other common allergens.
Composition
Freshly Selected Lamb (24%), Lamb Meal (21%), Rice (21%), Naked Oats (11%), Barley (11% ), Whole Linseed (4%), Poultry Fat (3%), Sugar Beet Pulp, Poultry Digest (2%), Vitamins & Minerals, Alfalfa (0.4%), Seaweed Meal, Fructo-Oligosaccharides (0.1%) from Chicory Root Extract, Mannan-Oligosaccharides (0.1%) from Yeast Extract, Potassium Chloride, Yucca Schidigera Extract, Marigold Meal, Rosemary Extract.
Additives
Nutritional Additives: Vitamin A 12,000 iu/kg; Vitamin D3 1,200 iu/kg, Vitamin E (as alpha-tocopherol acetate) 600 mg/kg, Vitamin C 80 mg/kg. Trace Elements: Ferrous sulphate monohydrate 133 mg/kg; Calcium iodate anhydrous 2.5 mg/kg; Cupric sulphate pentahydrate 20 mg/kg; Manganous oxide 40 mg/kg; Zinc Oxide 150 mg/kg; Zinc chelate of amino acids hydrate 80 mg/kg; Sodium selenite 0.2 mg/kg; Lutelin 50mg/kg; Beta-carotene 2.5mg/kg. Amino Acids: D,L-Methionine 650mg/kg. Also contains: Vitamin K 3g/kg, Folic Acid 1g/kg, Niacin 25g/kg, Iron 40g/kg, No added artificial colourants, flavourings or preservatives. Contains Tocopherol rich extracts of natural origin (Vitamin E) as permitted antioxidant.
Analytical Constituents:
| | | | |
| --- | --- | --- | --- |
| Crude Protein | 23.8% | Moisture | 8.0% |
| Crude Oils & Fats | 12.0% | Omega 3 | 1.1% |
| Crude Fibres | 23.8% | Omega 6 | 1.4% |
| Crude Ash* | 23.8% | | |
* Contrary to what is often said Ash is not present in your dogs food. Unburnable mineral levels etc remain as Ash after Incineration Analysis Tests.
Feeding Guidelines

The recommended feeding quantity should be split into two equal meals with one to be fed in the morning and the other to be fed in the afternoon. Please DO NOT exceed the total amount of food to be fed per day. The above table is a guide only as an individual dog's requirements will vary depending on activity level, age and environment. For nursing dogs please add an extra 90-120g of food per day. When feeding for the first time introduce gradually over 4 days. Always ensure clean water is available. Store in a cool dry place.
Essential Information
Freshly Selected Lamb: Lamb is an excellent and easily digestible natural protein source for dogs. With these levels of Freshly Selected Lamb we are of the opinion that dogs that have tried this food love it because they can smell the difference. Lamb Meal contains bone and meat which is cooked to a level where the moisture is removed and then ground into an easily digested format full of the protein essential to your dog's wellbeing. Rice is recommended by vets as it is one of the most digestible sources of starch/carbohydrates which your dog converts to energy. Research published in Nature magazine on January 23rd 2013 demonstrated that unlike wolves, domestic dogs benefit from genes that mean they naturally break down starches from rice, potato and some grain into easily digestible sugars. Naked Oats Described as a super-grain, Oats are a great source of fibre and energy as well as various essential nutrients such as thiamine and manganese. Barley contains 8 essential amino acids as well as Selenium, Calcium and Iron. Linseed is a recognised source of Omega 3 that is beneficial to skin as well as Calcium, Vitamin B6 and many other nutrients. Poultry Fat is included in order to deliver the correct proportion of essential fatty acids for a healthy skin and coat. Sugar Beet Pulp: Practically all the sugar is removed leaving a great source of fibre. Poultry Gravy adds extra flavour as well as helping balance levels of some essential nutrients, Vitamins & Minerals are added to ensure your dog gets the ideal nutritional levels it requires. (Further information on these is available on our website). Dried Alfalfa is pretty much packed with great nutrients and vitamins as well as antioxidants. Seaweed Meal contains Iodine which helps healthy thyroid function, It also supports a good coat and digestion. Fructo-Oligosaccharide (from chicory root extract). Mannan-Oligosaccharide (from yeast extract) (MOS and FOS) Pre/Pro-biotics that increase levels of healthy bacteria which promotes a healthy gut. Potassium Chloride: Added to ensure the optimum levels of Potassium and Chloride. Yucca Schidigera Extract aids smooth digestion, reduces gas in the gut and also odours. Marigold Meal is a natural anti oxidant and together with Rosemary Extract helps preserve our foods and mop up undesirable free radicals in your dog.