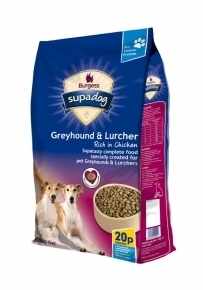 Supadog Greyhound & Lurcher 12.5kg Dog Food
Supadog Greyhound & Lurcher is specifically for the needs of these dogs as pets, the majority of which will have come from a rescue centre
Supadog
greyhound &
lurcher
A new, unique and tasty food specially created for pet Greyhounds and Lurchers.
Supadog greyhound & lurcher is a complete dry food made with chicken. It has been created specifically for the needs of these dogs as pets, the majority of whom will have come from a Rescue Centre. We have used high quality ingredients to create a tasty food that is nutritionally balanced and we've added some extras to help them even more.
Nutritional Analysis
Protein (for muscles, maintenance and growth)
17%
Oils & Fats (for energy, skin and coat)
8%
Ash (is a measure of the minerals, vitamins
and trace elements the food contains.)
6%
Fibre (regulates intestinal transit)
3%
Vitamin A (for growth, eyes and skin)
18,000 iu/kg
Vitamin D3 (for growth, teeth and bones)
1,800 iu/kg
Vitamin E (for cell protection)
200mg/kg
Copper (for bone formation, skin and coat)
12mg/kg
Ingredients
Wheat, Poultry Meat Meal (14%), Maize, Beet Pulp, Poultry Fat, Yeast, Fish Oil, (omega 3 fatty acids 0.2%), Dicalcium Phosphate, Salt, Fructo-oligosaccharides, Glucosamine 400mg/kg, Yucca Extract.
Glucosamine
Helps support joint mobility and great for overworked legs.
Fish Oils
A natural source of Omega 3 and tasty too! Greyhounds carry little body fat and have thinner coats. Omega 3 fatty acids help maintain healthy coats, body temperature and also skin and eyes.
Pre-Biotics
Aids digestive health.
Protein
Made with chicken, we have deliberately made this food at a slightly lower protein level. Pet greyhounds & lurchers do not need high protein - it's the quality not quantity that is important to support muscle tissue. In fact too much protein may be a cause of anxiety and hyperactivity in some dogs.
Carbohydrate
A balance of maize and locally sourced wheat for sustainable energy
All delivery charges for this item are to MAINLAND UK ONLY addresses (excluding Ireland, Isle of Man, Channel Islands, Scottish Islands, and BFPO postcodes).