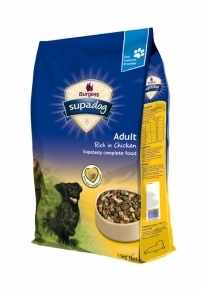 SUPADOG ADULT CHICKEN 15KG dog food
Supadog Adult Chicken has tasty moist chicken chunks naturally rich in protein for good muscle development and growth.
Supadog is packed with protein and amino acids for muscle development and growth; crunchy cooked cereals for energy and a healthy digestion; essential fatty acids for a shiny coat and healthy eyes, and added calcium for strong teeth and bones. These new and improved Supadog® Adult recipes have been carefully tested at independent kennels and consistently out-perform our previous recipe. Supadog® Adult has all the goodness a dog needs at a price owners will love.
Chicken
Free from red meet, ideal if your dog reacts badly to red meat protein.
Made without maize, so it's ideal for dogs who suffer from skin problems or overheating because of an allergic reaction to maize.
Moist and meaty chickeny chunks for improved texture and taste.

Basted in real meat juices for extra taste.
Nutritional Analysis (Chicken)
Protein
18%
Oils
8%
Ash
5%
Fibre
2.5%
Vitamin A
15,000 iu/kg
Vitamin D3
1,500 iu/kg
Vitamin E
90mg/kg
Copper*
10mg/kg
Ingredients (Chicken)
Cereals, meat and animal derivatives (min 14% chicken, min 2% meat juices), oils and fats, minerals, derivatives of vegetable origin, with antioxidant and colourant EC additives.
* as copper sulphate