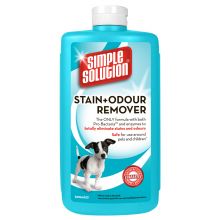 Simple Solution Stain + Odour Remover For Dogs - Flip Top 500ml
Simple Solution Stain+Odour Remover for Dogs. Flip Top 500ml.
Developed to remove organic pet messes - vomit, urine and faeces.
Completely eliminates odours to discourage pets from repeat marking.
The ONLY formula with both Pro-Bacteria™ and enzymes to get the job done.
Can be used on : Carpets, Upholstery, Bedding, Clothing, Any water-safe surface.
Safe for use around pets and children.
Money Back Guarantee Upon Proof of Purchase.