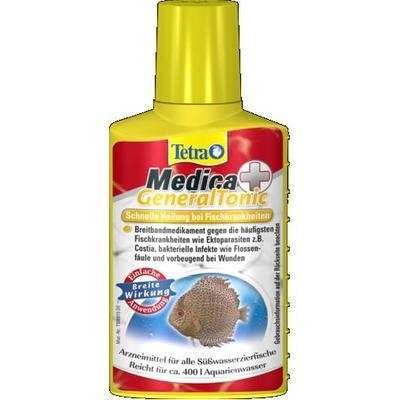 Tetra Medica GeneralTonic 100ml
Tetra Medica GeneralTonic is a multi-purpose medication to treat the most common fish diseases.
Areas of application: Bacterial infections such as fin and mouth rot; ectoparasitic diseases, dull membranes caused by parasites such as Costia, freshwater Oodinium; skin and gill parasites; wounds and injuries and, if applicable, fungal attacks
Ingredients per 100 ml of solution: Ethacridine lactate 836.0 mg, Acriflavine 160.2 mg, Methylene bluen 56.44 mg, 9-aminoacridine * HC1 * H2O 28.20 mg
Remedy for freshwater ornamental fish
Do not store at temperatures above 25°C. Do not use the remedy once the expiry date has passed. Read the enclosed directions for use carefully prior to application! Keep this remedy out of the reach and sight of children. The remedy may be harmful for delicate aquatic plants, such as those from the Ceratophyllum genus (hornwort). The product contains a number of ingredients, which can easily dye the transparent plastic parts (silicone rubber) in the aquarium.