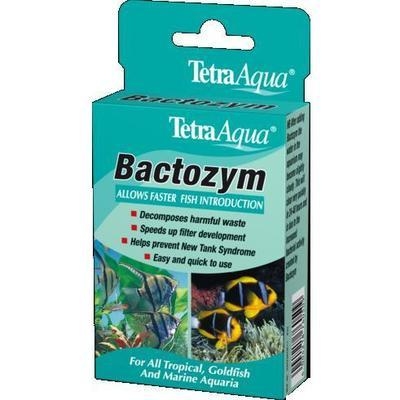 Tetra Bactozym
Allows Faster Fish Introduction
Speeds up the maturation of new aquarium filters, by creating an ideal environment for naturally-occuring bacteria. New filters lack waste-removing bacteria, which can lead to pollution of aquarium water with harmful ammonia and nitrite. By speeding up the colonisation of the filter with bacteria, Bactozym reduces the chances of water quality problems when setting up a new aquarium, or replacing an existing filter.
Suitable for all freshwater and marine aquarium
ApplicationAdd Bactozym to all new filters, and after cleaning established filters. For new aquariums, add 2 capsules per 100 litres (22 gallons) of aquarium water, placing the capsules directly into the filter. Repeat every 7 days. After cleaning the filter, add 1 capsule per 100 litres (22 gallons) of aquarium water.We recommend using Bactozym in combination with Tetra SafeStart for the rapid maturation of new filters.