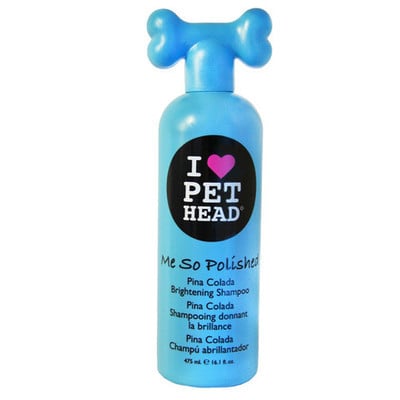 Pet Heads Me So Polished Brightening Shampoo 475ml
Pina Colada
(475ml / 16.1 fl oz)

Shampoo n' Shine! Gently removes stains and brightens with wheat germ oil and vitamin E to improve the sheen and softness of the coat. Adds a glowing luster and silky texture to dull coats while enhancing the color. Wheat Germ Oil is an effective antioxidant that is very rich in natural vitamin E. It nourishes and rejuvenates dry skin.
Pet Head formulas are pH adjusted and free of parabens, petroleum derivatives, propylene glycol, sulfate and DEA.
To Use: Wet the coat completely with warm water. Apply shampoo gently, work back to the tail. Lather well into coat. Avoid eyes and ears. Rinse thoroughly and towel dry.