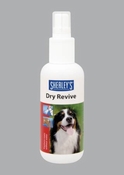 Beapher Dry Revive 150ml
A handy alternative to a bath, especially if you are short on time!
Comes ready to use in a convenient atomiser spray which refreshes the coat without the need for water. Leaves the coat dry, glossy, with a wonderful fresh fragrance. Particularly good for combating doggy dogs before visitors arrive!